Tom Keifer
Timing, as the saying goes, is everything. And when you're a career artist like TOM KEIFER, a man who knows exactly what it takes to get to the pinnacle and just how precarious it can be once you reach the top, you learn how to put your best foot forward so you can reach the summit again.
KEIFER's creative renaissance is fully on display via the eleven tough 'n' tender tracks that compriseRISE, the new studio album from #keiferband, which is set for release on September 13, 2019 from Cleopatra Records.Produced by TOM KEIFER, Savannah Keifer, and the band'slongtime live engineer, Kyle O'Connor, RISEscales renewed sonic heights,from the tasty slide work that stamps "Touching the Divine"to the nontraditionally arranged old-school jam of "Untitled," and from the breakneck thrust of "All Amped Up" to the tender coda of "You Believe in Me." Taken as a whole,RISE signifies the ongoing evolution of the former Cinderella frontman as a person,songwriter, and bandleader.It's the aural portrait ofan artist who, to borrow a phrase, is still climbing. "To me, the perfect rock and roll record is perfectly fucked up," KEIFER says with a hearty laugh. "You try to make each record interesting and different. I don't ever want to make the same record twice, even though there's a common thread between them. Everything doesn't have to be perfectly in place, but there is a balance you try to strike. Sometimes there may be something about it that's technically not 'right,' but there's a vibe and an energy and an attitude to it that I always try to preserve."
KEIFER's deep-seated roots continue to shine through in his work, something that was embedded at the very core of the music created during his multiplatinum Cinderella days ("Nobody's Fool," "Shake Me," "Don't Know What You Got (Till It's Gone)," "Coming Home," "Gypsy Road," "Shelter Me," to name but a few of their biggest hits)."I think I've always written from a very blues-based place in terms of lyrics and themes," the songwriter concurs. "All my heroes were schooled on that type of music, so it's about sharing real things, and not just celebrating triumphs. That's the place I typically write from."
The common thread to each song on RISE is the intuitive interplay between each member of #keiferband, a tight but loose collective that's spent the last six-plus years on the road honing their live crafttogether in support of KEIFER's critically acclaimed solo debut, 2013'sTHE WAY LIFE GOES. RISE is the studio-bred equivalent of a band just now realizing the full scope of its powers. "We were trying to capture the feeling of what people have witnessed live with this band and how well they responded to us from Day 1," he explains. "There's an off-the-rails, real live feel to RISE — and that's what we were going for. It shows a real kind of angst and a little reckless abandon that we tried not to polish too much. And when we pull it back on the ballads, it's more about the emotion and the soul, and making people feel something in a different way."
Conveying such differing emotionssprings fromKEIFER's underrated vocal chops. "I've got several different registers to my voice, and I try to use 'em all for dynamics," he explains. "There's the lower chest register, the full-on high one, and the one that I use on a song like'Waiting on the Demons,' where it's in the middle and goes in between the two."KEIFER also made sure to absorb as much as he could from all the vocalists he admired in his youth."Growing up in the '70s, there were so many singers I loved, and they were all so very, very different stylistically — from Mick Jagger to Robert Plant, Rod Stewart, and Janis Joplin," he notes. "Then I started digging back tothe stuff that influenced The Rolling Stones and Led Zeppelin, like Muddy Waters and James Brown. I desperately worked my ass off trying to imitate James Brown's scream. I don't think anybody sounds quite like him when they sing, but he inspired me to try. I learned a long time ago to actually push that stuff up in the mix, because if you don't, it gets lost— andyou need to keepall that attitude in there."
Other raucous RISE tracks like "The Death of Me" and "Hype" go to show #keiferband'sunique brand of chemistry. "When this band came together, we were a bunch of broken souls, and if you talked to everyone in it, they would all say this band came along at just the right time," KEIFER admits. "As a group, we all feel we came together for a reason. We have a great chemistry on and offstage, and that's really cool.I know I felt that immediately. I mean, you don't want to be riding on a bus with people you can't relate to, but we all get along very well, so we're very fortunate.I was really happy to find that, because I don't ever want to be a 'solo artist,' you know? I want to be part of a band, and now we've finally come together after bonding on the road to make a record together. What each creative member broughtinto the studio came to life. Everybody really added to it."
KEIFER owes much of his sparkto theconnection he has with wife and songwriting partner Savannah Keifer, the musehe celebrates in"You Believe in Me," the deeplyheartfelt final track on RISE. "It's the type of song that's just pure emotion, and I wrote it for Savannah because she's been my rock and my best friend — my best everything," hesays with admiration."I woke up one morning, and that song was just in my head. The best songs are always the ones that sound like a CD is playing in your head,and your jobis that you have to pull them out and translate them. A lot of how I've been able to keep soldiering on through adversity has a lot to do with Savannah and because of her belief in me — and vice-versa. We hold each other up."
ThoughKEIFER has faced many ups and downs all throughout his storied career, his unyielding resilience can be found well within the grooves of RISE. "What's my secret? I don't know — I just try to move forward," Keifer muses. "It's like I say in 'Solid Ground,' the opening track to THE WAY LIFE GOES— 'I got to keep movin'.' I try not to get too stuck in what was and not think about what's to come, which is a very hard place to be. It's called being in the moment — a hard thing for any of us to do, but when youmanage to do that, it really calms your worries and your anxieties, and you can just enjoy where you're at. It's something you've got to practice every day."Practice makes perfect, of course, and in this particular moment, it's fair to sayRISEis the perfectly realizedalbum that'sbrought #keiferbanddirectly to the next summit. Join them on their climb.
#keiferband is TOM KEIFER (Lead Vocals, Lead & Rhythm Guitars, Piano), Savannah Keifer (Vocals, Percussion, Piano), Tony Higbee (Lead & Rhythm Guitars, Vocals), Billy Mercer (Bass, Vocals), Kendra Chantelle (Vocals, Percussion), Jarred Pope (Drums), Kory Myers (Keyboards, Vocals)
Downloadable Photos & Shareable Videos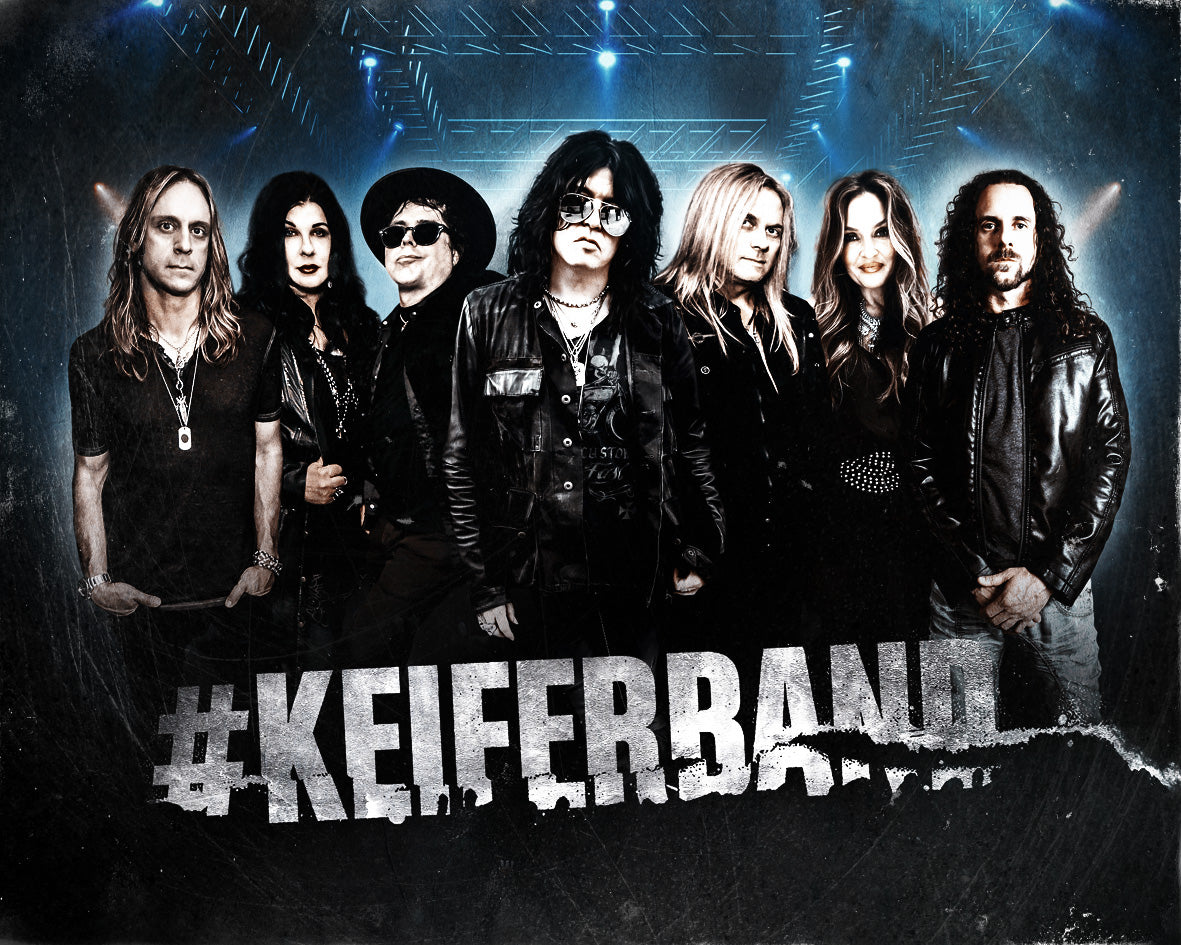 Photo credit: Tammy Vega
Credit: Courtesy of Tom Keifer
Choosing a selection results in a full page refresh.
Quick view

[split_t4nt]

Compare

[split_t4nt][split_t4nt]

Add to cart

[split_t4nt]